Amelia Johnson's Gold Award project uncovers the history of the Rice Rivers Center property
Oct. 2, 2023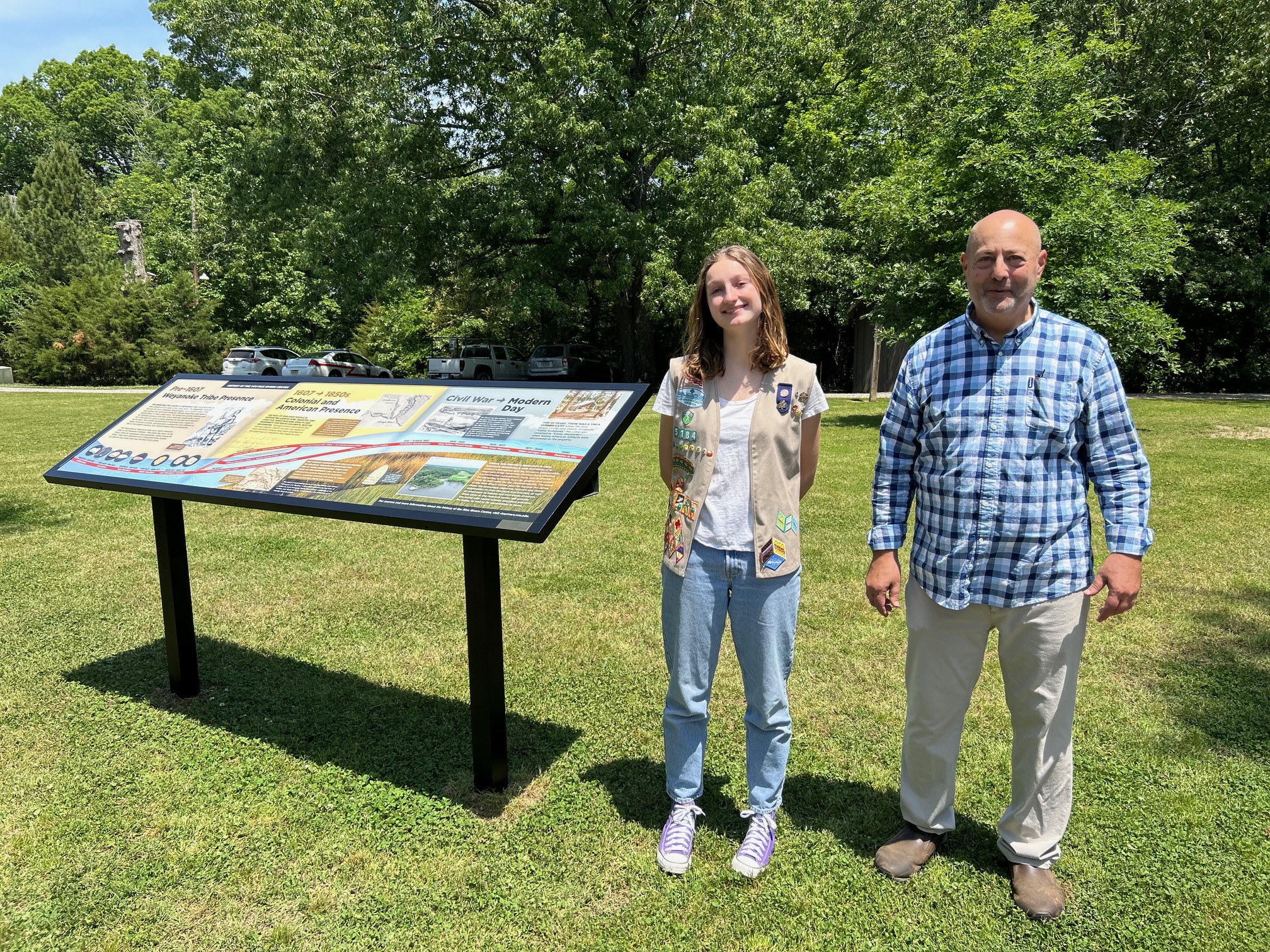 Each year, researchers, faculty, students and visitors to Rice Rivers Center learn, work and meet among the natural beauty of the 365-acre property. The view of the mighty James River takes center stage, but how many who stood on the banks to take it all in had thoughts turn to those who gazed upon the same view in prior years and centuries?
Amelia Johnson is one who did, and she decided to find out.
In 2019, Girl Scout Troop 5184, located in Henrico Virginia, chose as their group silver award project to build a trail at VCU Rice Rivers Center that would provide easier access between the Inger Rice Lodge and the newly-restored YMCA Camp Weyanoke cabin. The troop partnered with Katie Schmidt, then a staff member of VCU's Outdoor Adventure Program and a master's student in the Center for Environmental Studies. She oversaw the rising ninth-graders as they cut back branches, prepared the land, and laid the mulch that finished their project. The results of the troop's efforts were recognized with a Girl Scout Silver Award.
A year and a half later Johnson, one of the scouts, began looking for project opportunities for her Girl Scout Gold Award. A Gold Award is the top award given in the organization, and many other achievements must be reached before a scout can begin the next step. The award is given for a service project, and a minimum of 80 hours is necessary before it is obtained.
Johnson's ties to VCU goes beyond her work on the trail; her mother is an associate professor and graduate program director at the Center for Biological Data Science. An August 2021 conversation with Rice Rivers Center director Greg Garman, Ph.D., began the process of Johnson's proposal for her Gold Award. After writing and pitching a proposal to a girl scout review committee, she was cleared to proceed.
Interests in anthropology and writing merged as Johnson began to fine-tune what she wanted her project to look like. "It would be great to learn about the history of a place like Rice Rivers Center and find a way to share it with the public in order to benefit the community," she states.
An interpretative sign was decided upon -- one that would sit up on the bluff of the James River adjacent to the center's Walter L. Rice Education Building.
Johnson wasted no time in beginning her research. Johnson combed-over a former graduate thesis on the history of the center, which covers the geological, ecological and cultural background of the land the center sits on. Her history gathering work began at the Charles City County Richard M. Bowman Center for Local History, where she met with Judy Ledbetter and Nancy Phaup. Using primary documents, they found some discrepancies in the timeline in the thesis, and worked with Johnson to find wills, deeds, census, and land sale agreements for the property. Soon, a new timeline emerged.
Other sources began to provide important information to the center's story. Laura Galke, Chief Curator, at the Virginia Department of Historic Resources (VDHR) allowed Johnson into the archival room to look at artifacts obtained from the property. Amber Bennett, who worked at the time in VCU Facilities, found them when ground was being prepared for the first building at Rice Rivers Center, and turned them over to VDHR. Christopher Egghart, Cultural Resources Specialist, Virginia Department of Environmental Quality (DEQ), met with Johnson to provide historical interpretation of the artifacts, including pottery shards, tools and a civil war era bullet.
It was a visit to the University of Richmond Boatwright Memorial Library to look at Virginia Baptist Historical Society census records of the Emmaus Baptist Church in Charles City County that yielded the most detailed and surprising information. The church's history dates back to 1776, and the structure to 1852. Throughout Virginia, records of enslaved people were stolen and burned and not many remain, but those from the church remained intact. The library was in possession of those handwritten records which documented enslaved people's names, many with direct ties to the land. Johnson's report on the names and history of those who lived on or near Rice Rivers Center can be found here.
The 80-hour project minimum soon turned into 100 plus, as Johnson immersed herself in historical documents and began to weave together a narrative of the land.
The result was a three-panel interpretive sign documenting a broad historical overview of the Rice Rivers Center land, spanning from pre-1607 to present day. Native American tribes, colonial groups, enslaved people, presidential families, the Union Army during the Civil War, and YMCA campers are all former inhabitants at present-day Rice Rivers Center. Their presence is still felt at the center; arrowheads and lead bullets can still be found on-site, earthworks from the Civil War encampment line part of the drive, and an old YMCA outbuilding has been restored to a learning center. History is all around the property, and Johnson's sign ties it all together. The sign was dedicated at Rice Rivers Center on May 6, 2023 in front of friends, stakeholders, and the Board of Trustees.
This fall, Johnson began her studies as a member of William and Mary's class of 2027, concentrating in Government. What started as a sign for a Girl Scout Gold Award turned into a sleuthing adventure uncovering long-forgotten historical documents and artifacts, and creating new connections and relationships with the keepers of Virginia's history.
"I learned deeply about the history of Rice Rivers Center, but also about the many resources and collections staffed by individuals who were enthusiastic to help me uncover pieces of this project. One moment that stood out to me was when Ms. Ledbetter called a civil war bullet expert. He was assisting at a historical dive site, and another expert he wanted to confer with was underwater. He said they would call back when they were together. 25 minutes later the phone rang, and I was speaking with two experts who were excited as I was about the historical background of the bullet. Moments like that are unforgettable. I'm really grateful for all the support I received and for the story I was able to tell through this sign."
To see photos, learn more about the sign, and read Johnson's Gold Award report, visit the Site History page.